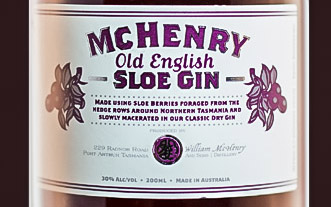 Last nights episode of Gourmet Farmer has sent a swathe of enquires our way for our Old English Sloe Gin.  For those not in the know Sloe Gin is an traditional English drink that uses Sloe Berries (AKA Blackthorn Berries) macerated in a London Dry Gin to make a versatile liqueur.  For instance Sloe Gin can be drunk on its own as an aperitif,  as a sticky sweet at the end of a meal, as a topping over ice-cream or as a mixer in a cocktail.
The Sloes grow through Tasmania's rural regions having been introduced by the English over 100 years ago.  They grow in the hedge rows along the road-side and we forage for them in the Autumn and bring them back to the Distillery to use them in our 'Old English Sloe Gin'.  A word of warning though to the home foragers as you need to be a bit careful if you are thinking of making them yourselves as you don't want to confuse the Sloe Berries with the other type of berries that grow wild – like Hawthorn for instance.
Batch one was a screaming hit and we sold out within weeks of its release and we have two more batches under production.  At William McHenry & Sons Distillery we tend to prefer a slow maceration and it usually takes us around 4-5 months to develop the deep vivid colour and flavour of a premium Sloe Gin.  We think batch two and three will be ready in a matter of weeks so if you are interested in reserving a bottle send us an email.  Otherwise we will post on the website and Facebook when it is ready we will invite you to come down to our Salamanca stall to try it.
https://mchenrydistillery.com.au/wp-content/uploads/2013/04/McHenry-Slo-Gin-label.jpg
207
331
Bill
https://mchenrydistillery.com.au/wp-content/uploads/2019/05/McHenry-Logo-2-300x140.png
Bill
2013-04-12 21:00:03
2013-06-01 23:21:04
Sloe Gin