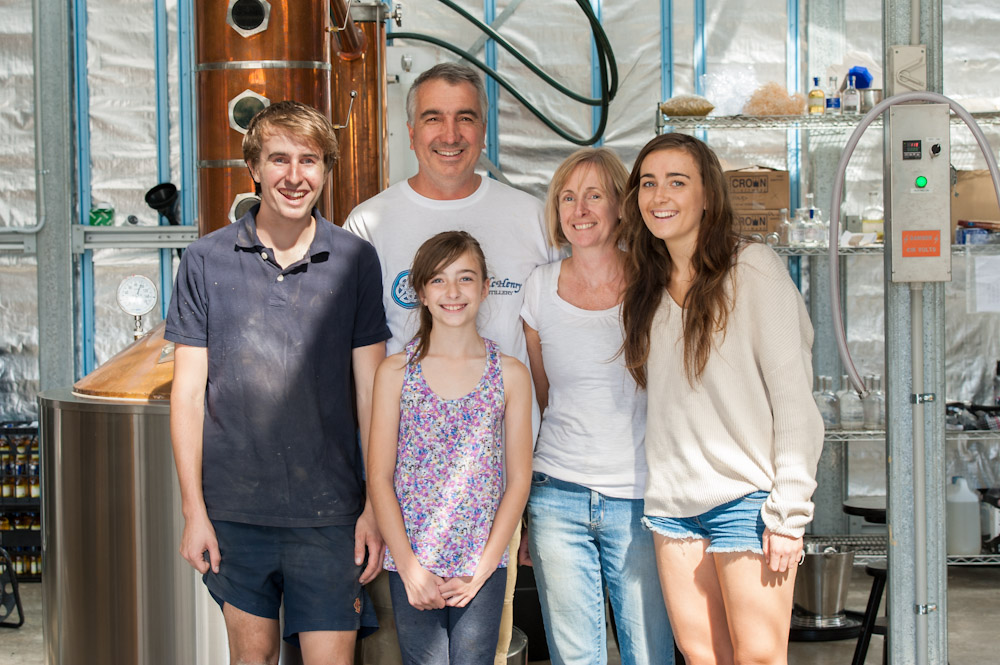 The great-great-great-grandson of an Isle of Skye whisky smuggler has become Tasmania's seventh distiller.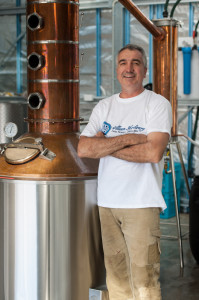 William McHenry, an executive with a Sydney biotech company, brought his family to Tasmania on a life-changing holiday.
"We all loved everything that Tasmania was: clean; green; open; friendly and with the right community values for raising children," Mr McHenry said.
"The community cohesion was so different to our own situation where cars, security systems and automatic garages seemed to isolate us from casual contacts with our neighbours."
After the holiday, Mr McHenry considered his good Celtic name, his ancestral link to whisky and the suitability of the Tasmanian climate for whisky production. Why not become the first to tread that Road Less Travelled in the southern island?
When he began some research he soon found that others had been there before him.
Mr McHenry learned about Bill Lark's world-best title against Scottish competition in Chicago; Patrick Maguire securing a place on Harrod's hallowed shelves in London; Tasmanian whiskies achieving Liquid Gold Status in Jim Murray's Whisky Bible; and all the rest.
"That made the decision even easier," Mr McHenry told The Mercury in a recent interview. "And the other distillers have made it easy since we arrived. It's a very open, friendly and co-operative group with an attitude that the more distilleries there are, the stronger the industry and the better for everyone."
So complete was the newcomer's acceptance that he became a founding member of the Tasmanian Whisky Producers Association.
And so successful was his dive into whisky marketing that he was able to secure third prize in an Australasian Whisky Competition run by World of Whisky for a cask-strength whisky used in his Three Capes single malt brand.
The brand is a private bottling using whisky aged in bourbon barrels at the Tasmania Distillery in Cambridge and cut back using spring water from the McHenry property at the back of Mount Arthur on the Tasman Peninsula.
"My first show and my first award," Mr McHenry said with justified pride.
McHenrys bought the property after finding it had three springs that gush throughout the year with water that has an ideal mineral composition for quality whisky production.
"At the heart of any good whisky is good water," Mr McHenry said.
Mr McHenry commissioned Peter Bailey of Knapp-Lewer in Hobart to fabricate a 500-litre pot still that is unlike any other in the State.
"It's different in that it is a jacketed still," Mr McHenry explained. "The heating element is in the water jacket rather than in the still.
"This allows me to evenly heat the wash and low wines without exposing them to a fierce heat that might change my flavour profiles.
"Also I have a three-plate column which, when the baffles are closed, allows me to produce premium neutral spirits."
A start-up business like William McHenry & Sons Distillery must have products it can sell while its whisky is ageing.
The answer in this case is triple-distilled vodka and dry gin.
"But with the baffles open I get a huge amount of reflux which helps to give me the light whisky spirit I am looking for," Mr McHenry said.
He also markets the prize-winning 10-year-old Three Capes single malt that was distilled and aged by Patrick Maguire at the Tasmanian Distillery in Cambridge.
"Any criticism I hear about Tasmanian whisky relates to lack of consistency," Mr McHenry said. "Consequently I want to keep my specifications quite narrow and put tight controls on as many of the variables as possible to bring about a consistent product, batch-to-batch, vat-to-vat and year-to-year."
The still is housed at present in an old weather-board building with spectacular views across the peninsula to the Southern Ocean.
The building will be converted to company headquarters when a larger distilling facility and tasting area have been completed. The Tasman Council has approved Mr McHenry's building plans.
McHenry & Sons has put down its first malt whiskies to age. Those in smaller barrels will be released at three years of age, while those in larger barrels will be aged for 10 years.
Mr McHenry does not intend to use peat from the central highlands in his production.
"I want to produce a delicate, elegant spirit and broaden whisky's appeal rather than produce a heavier, more robust peated whisky," he said.
"The Scots use peat fuel for drying their malted barley and that gives scotch its distinctive flavour.
"I think it's more authentic for a new-world whisky to be unpeated. It's all a bit personal really."
The international kudos flowing to Tasmanian whiskies give Mr McHenry confidence that his lifestyle change and investment will have a mellow outcome.
For more information: www.mchenrydistillery.com.au & http://www.youtube.com/watch?feature=player_embedded&v=Uq2KKGSDwkQ
Footnote: The fledgling Tasmanian industry received another big boost in August when Sullivans Cove won a gold medal at the World Whisky Masters in London with its French Oak Cask Single Malt Whisky. The company also collected two silver medals for its American Oak Cask and Double Cask whiskies. Patrick Maguire, Sullivans Cove's Distiller, said: "We have put some really hard work into making the best whisky that we can over the years, and it is such a good feeling to consistently come out on top on the world stage!"
Sullivans Cove has earned Liquid Gold Awards from Jim Murray's Whisky Bible in 2007 and 2010, as well as three gold medals at last year's World Whisky Masters and "Best Other Single Malt" (for non-Scotches) at the World Whisky Awards in 2007 and 2011.
https://mchenrydistillery.com.au/wp-content/uploads/2013/08/McHenry-and-Sons-209.jpg
665
1000
Bill
https://mchenrydistillery.com.au/wp-content/uploads/2019/05/McHenry-Logo-2-300x140.png
Bill
2013-08-20 18:35:19
2013-09-09 10:01:43
New distiller has whisky in his genes